Glaze Doughnuts
Serving warm, delicious, and award winning doughnuts in the Las Vegas Community
Go to CLASSIC GLAZE
CLASSIC GLAZE
Your sweet tooth basic training starts here. A few of these savory drills will prepare you for something even more tasty.
Go to TASTY DONUTS
TASTY DONUTS
For a mini adventure, explore these gratifying goodies, and boldy take your taste buds where they have not gone before. Resistence is futile.
Go to FANCY DONUTS
FANCY DONUTS
Made to satisfy the biggest cravings, these decadent doughnuts are lavished with premium toppings and fillings, leaving you feeling fancy.
ABOUT GLAZE DOUGHNUTS
Our mouth watering doughnuts are baked daily, and we're located in the Southwest part of Las Vegas
Bringing Delectable Donuts to Your Tastebuds
As a professional doughnut baker in the doughnut industry, we've learned the craft of perfecting the finest doughnuts from our parents.

We would like to bring you the sweet taste of our delectable doughnuts; promising passion and quality. You haven't truly experienced great, classic doughnuts until you've tried Glaze Doughnuts.

We are located in the Southwest side of Las Vegas on S. Fort Apache and Sunset.

If you're interested in large orders, please call us at (702) 246-2888
Latest news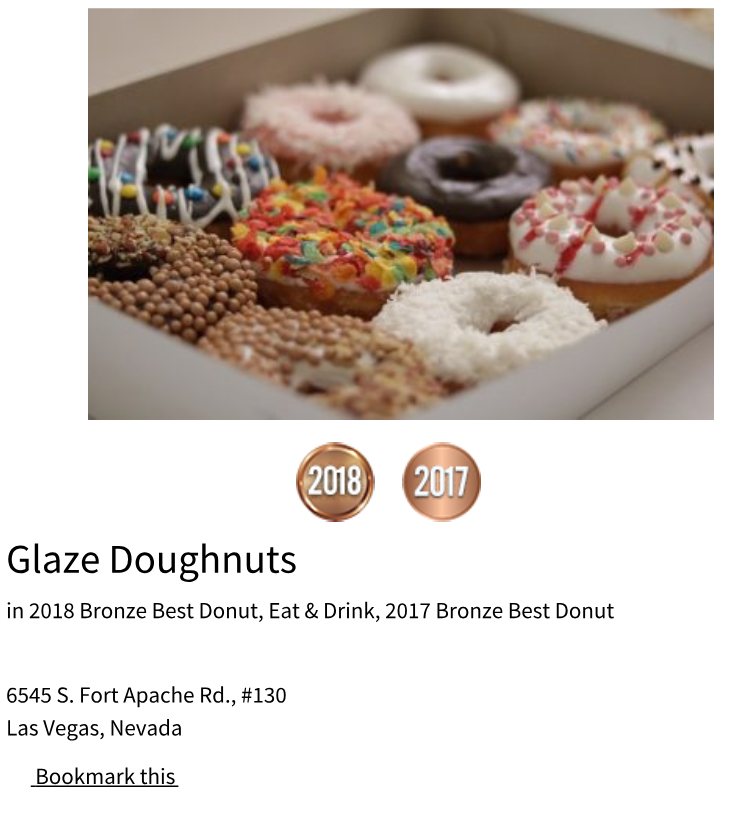 The votes are in, and we're excited to share this SECOND win with all of our customers, family and friends. Your votes meant everything to us. Two years straight win, and this means so much to the Glaze family to be listed in the TOP 3 in Best Donut category! Thank you again, Las Vegas!
Previous
Next